Translation of subtitles for video clips and insert subttile for films
Translation is an urgent need in a flat world, translation connect trade between economies, between countries in all areas of social life, … HACO is a bright spot in the interactive economy that helps bring the parts of the world closer together.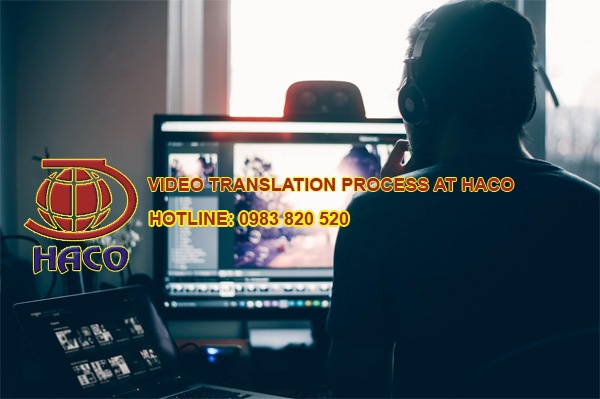 HACO provides VIDEO translation services in English, Japanese, Korean, Chinese, Russian, German, Laotian, Thai, … 30 languages around the world. HACO specializes in two-way language translation: : English <–> Japanese; English <–> Chinese; English <–> Korean; English <–> Russian; English <–> Thai; English <–> Lao; English <–> Russian; English <–> German,….
TRANSLATION OF VIDEO – RECORDING – VOICING
10 REASONS TO CHOOSE HACO
1. WE ALWAYS FOLLOW THE JAPANESE STANDARD TRANSLATION PROCESS QUALIFIED FOR ISO 9001-2008
2. HACO IS AN WELL-KNOWN TRANSLATION BRAND ON THE DOMESTIC AND INTERNATIONAL MARKET:
3. EXPERIENCE IN TRANSLATION FOR NEARLY 20 YEARS
4. HIGH-SPEED TRANSLATION, PROCESSING 100,000 WORDS / DAY – ON SCHEDULE WHENEVER CUSTOMERS NEED;
5. EXPERIENCED TEAM OF EXPERTS WITH PROFESSIONAL TRANSLATION TEAM – WITH LOCALIZATION FACTORS; Combined With TRANSLATION SOFTWARE SUCH AS TRADOS, TRANSLATION MEMORY … SAVING COSTS, ENSURING THE HIGHEST TRANSLATION QUALITY.
6. SERVICE PACKAGE, QUALITY PROFESSIONAL SERVICE, 24/7 DEDICATION.
7. COMPETITIVE PRICE – FLEXIBLE PAYMENT
8. 100% CONFIDENTIALITY
9. MODERN TECHNOLOGY
10. HACO – MULTILINGUAL TRANSLATION – GLOBALIZATION
Why do we translate videos?
Videos consist of films, including feature films, documentaries, animal world films, scientific films, advertising films, etc. During the integration of the flat world, any video needed translation from English, Japanese, Korean, Chinese, etc. into Vietnamese, or vice versa, and now there are videos that require 2-way translation such as English – Japanese, Japanese – English, and the like for Chinese, Korean, Russian, etc. Video translation comes in 2 formats, translation with subtitles has the meaning along with the voice, the video has the words corresponding to the words consistent with the images in the video played, this type is easy to translate and can use translation to handle. However, the form without subtitles is more difficult, because this is the form of listening to the source language and then translating into the target language, which uses the equivalent term of the translator. All kinds of videos with fast and accurate translation level are put on top, after the content has been translated, the next step is to dub and insert subtitles. This is the final and important step to decide the final quality of translating a video, although standard translation content is a mandatory requirement, it represents the final core of the video is completed after being dubbed and inserted with movie subtitles.
Video translation requires short, concise and accurate sentences. Video, which is in the form of feature films, usually many episodes, requires that the translation content be accurate and consistent from the beginning to the end. As for topical video, in addition to the standard content requirements, it goes with the speed, whoever provides fast topical video, that person will win a lot of favor, soon reach the readers and get higher profits. Breaking news is the first priority of newsreels.
PROFESSIONAL VIDEO SUBTITLE SERVICE
Making subtitles is a simple job, but requires meticulous, persistent and delicate to create videos with beautiful subtitles and professional effects.
To make subtitles for movies or videos, you need to have a high configuration computer so as to make video subtitles faster and more efficiently. In addition, the computer needs to install professional subtitle software. Currently, there are many popular software, including
Aegisub: This is free software to create subtitles for videos and movies. It can edit, read, write and convert many subtitle formats.
Subtitle Edit: Use free, compact size, make subtitles for simple videos.
SubAdd 2007: SubAdd 2007 enables users to find sub formats to stay online so that users can download, compare and contrast their subtitles.
Annotation Edit: The software is not limited to subtitle files, free to use. Annotation Edit helps users can make subtitles for many videos at once.
Subtitles Translator: The software helps you translate the subtitle languages of your favorite videos, movies, thus making editing and creating subtitles easier.
Subtitles help make videos and clips unobtrusive, cost effective and time-effective, but viewers can still understand the content that the author wants to convey. Increase the value of the content you want to convey to customers, as well as the target audience.
TRANSLATION OF VIDEO SUBTITLES FROM OTHER LANGUAGES IN VIETNAMESE AND VICE VERSA
Make subtitles for videos
Record, dub, voice over your request (male, female, northern or southern voices)
Professional, academic, and other training videos
Advertising videos for individuals, enterprises products imported from abroad and domestic products exported.
Professional video translation and dubbing
Translation of videos, training DVDs and inserting of subtitles for clips
Translation of TV shows and talkshows and inserting of subtitles for live broadcast
Translation and inserting of subtitles for films and documentaries
Translation of TVCs introducing companies, translation of video clips introducing companies as ads
Inserting of subtitles (subtitle) videos and voicing over male and female
Running of subtitles for video clips and training DVDs
Making of subtitles for TV shows and talk shows
Inserting of subtitles for films and documentaries
Making of subtitles for TVCs advertising products and making video subtitles
Transcription of videos
Transcription of training videos and training DVDs
Transcription of reality television shows and talkshows
Transcription of films and documentaries
Transcription of TVCs and company introduction videos
Caption of videos
Voice of training videos and DVDs
Voice of reality TV shows and gameshows
Presentation of sitcoms, movies and documentaries
Presentation of TVCs and video clips introducing companies
HACO Translation and Interpretation provides professional, high-quality subtitle translation services from foreign video clips to hot movies on screen. We handle all data formats with all of your fields and contents.
Why do our customers often choose to translate our movies and insert subtitles as a reliable address?
We have a professional translation team with more than 30 languages and 50 majors.
• Apply the most advanced technology in the world and use specialized software, such as: Aegisub, Subtitle Workshop, Corel Video Studio Pro, Audio Mixer video, Ulead Video Studio.
• Subtitles work on all Video programs and devices such as Apple, Adobe, Panasonic, Spruce, Sonic Systems, Toshiba and Sony.
• Subtitles appear crisp and match content to the milliseconds.
• Experienced technicians are ready to meet all requirements of customers.
• Use language to translate subtitle for movies, videos, clips and insert subtitles for feature films.
TRANSLATE SUBTITLES FOR FILMS, VIDEOS, CLIPS, INSERT SUBTILES FOR VARIOUS COUNTRIES IN THE WORLD:
FOR FILMS OF HUNDRED OF EPISODES, THERE MUST BE STANDARD PROCEDURES
Strict translation process at HACO includes 8 steps
Step 1: Analyze the project
Document is divided into sub-chapter, determined the specialty as well as the level of difficulty of each sub-chapter.
Step 2: Select project personnel
This step is especially important. The choice of the right translator, particularly the project manager, expert will determine 80% of the success of a translation project.
Step 3: Set up wordlist delivered to project translators
To ensure consistency of specialized words, repeated words and phrases.
Step 4: Conduct translation
All translation specialists are connected smoothly via network connection, telephone, online, skype … during the translation process to create consistency in the translation content and to ensure optimal translation quality and complete translation schedule in the shortest time.
Step 5: Proofreading
This is an indispensable step which aims to unify the term and quality of translation in the most perfect way.
It depends on the level of depth and accuracy of the Project Manager or the document editor.
Step 6: Formatting
To create the professionalism, the translated documents must have the same format structure as the original documents.
Step 7: Browse the project
In order to avoid negligence in the process of formatting documents, the Project Manager and the Experts will finally check both content and format before delivering to customers.
Step 8: Document privacy
After handing the translated documents to the customer. The project manager is the person who keeps the document in the server which is protected by password and will be erased in 10 days (if requested by the customer).
Privacy Policy
HACO has a good security system, ensuring that customers' documents are not disclosed. Requirements that collaborators and employees need to comply with:
1. Do not contact directly / indirectly with organizations / individuals related to translated documents / projects.
2. Do not disclose any content in the translated document to anyone;
3. After completion, must transfer all documents (originals and translations) to the company;
4. Within 7 days after transferring documents to the Company, all data on the computer (or draft) must be deleted / destroyed if no amendment is required.
5. Translated documents delivered one week overdue by collaborator will be considered invalid.
6. All information of collaborators is kept confidential, not provided to partners or other services, especially mail advertising companies which would send junk mail.
7. HACO will not send advertisement to the list of partners after the translation contract ends.
8. In term of finance, HACO accountant ensures the contract settlement according to the provisions of the enterprise financial system.
AFTER COMPLETING THE TRANSLATED CONTENT, THE NEXT STEP IS
1. Dub, voice and make subtitles for feature films:
1.1. Translate documentary films, feature films, advertisements, etc. from English, Italian, Russian, French, German, Spanish, Korean, Chinese, etc. to Vietnamese and vice versa.
1.2. Voice (Southern accent) and type subtitles on demand for dramas, films, documentaries, reportages.
1.3. Documentary films, reportage films, introductory films, advertised product descriptions (Northern or Southern accent) to foreign languages as required by advertisements and presentations of partners in the host countries.
DIFFERENTIATIONS OF HACO
HACO has a team of multi-level staff, with effective cooperation. The team of skilled and experienced translators and interpreters always meet customers' requirements of time and quality.
The team of technicians is trained methodically and works quickly and professionally in the stages from editing to recording, subtitling, etc. The production team is formed from Vietnamese TV station staff. Modern and digital equipment and studios meet the high technical requirements of our partners.
Come to HACO, customers will benefit the optimal language solution, with technical translations:
1. The content of the translation is 100% technically accurate;
2. On-Time service;
3. Absolute confidentiality of translation documents;
4. Professional service;
5. Lifetime warranty;
6. Best prices, flexible payments.
HACO COMMITS 100% REFUND
IF THE ABOVE STATEMENTS ARE NOT TRUE
Please contact us to have a perfect translation:
Address: No. 2/68 Nguy Như Kon Tum – Nhan Chinh – Thanh Xuan – Hanoi
Tel: (+84) 435543604 Hotline: (+84) 983820520 _ (+84) 982045522
Email: hanoi@dichthuathaco.vn _ vietnamese@dichthuathaco.vn