NOTARIZED TRANSLATION services are provided in English, Japanese, Korean, Chinese, Russian, German, Laotian, Thai, … .totally around 30 languages in the world. Specialized in two-way language translation: English <-> Japanese translation, English <-> Chinese translation; English <-> Korean translation; English <-> Russian translation; English <-> Thai translation; English <-> Lao translation, English <-> Russian translation; English <-> German translation,….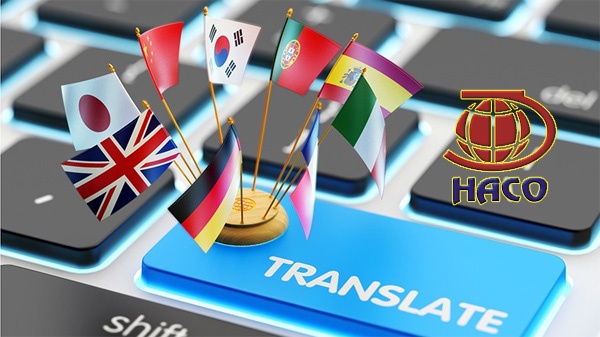 10 REASONS TO CHOOSE HACO
1. WE ALWAYS FOLLOW THE JAPANESE STANDARD TRANSLATION PROCESS QUALIFIED FOR ISO 9001-2008
2. HACO IS AN WELL-KNOWN TRANSLATION BRAND ON THE DOMESTIC AND INTERNATIONAL MARKET:
3. EXPERIENCE IN TRANSLATION FOR NEARLY 20 YEARS
4. HIGH-SPEED TRANSLATION, PROCESSING 100,000 WORDS / DAY – ON SCHEDULE WHENEVER CUSTOMERS NEED;
5. EXPERIENCED TEAM OF EXPERTS WITH PROFESSIONAL TRANSLATION TEAM – WITH LOCALIZATION FACTORS; Combined With TRANSLATION SOFTWARE SUCH AS TRADOS, TRANSLATION MEMORY … SAVING COSTS, ENSURING THE HIGHEST TRANSLATION QUALITY.
6. SERVICE PACKAGE, QUALITY PROFESSIONAL SERVICE, 24/7 DEDICATION.
7. COMPETITIVE PRICE – FLEXIBLE PAYMENT
8. 100% CONFIDENTIALITY
9. MODERN TECHNOLOGY
10. HACO – MULTILINGUAL TRANSLATION – GLOBALIZATION
Today, notarized translation is an inseparable part of social life in the process of world integration. Any organization or individual who goes abroad to work, study, travel, settle down, … or do business with domestic or foreign organizations under the investment law, or bidding projects and related documents … must have all legal papers for the business and personal papers for each individual.
Depending on the country, the translation of English, Japanese, Korean, Chinese, French, Russian, German, American, … and many other languages would be applied accordingly. This applies to both organizations and individuals from abroad entering Vietnam. Thus, notarized translation plays an important role in today's social life.
The nature of notarized translation is that the completed translation document must be signed by the translator (Signature of the translator registered at the Department of Justice) ensuring the content to be translated correctly, and in accordance with the content of the original attached. It is important to have the signature in the translation going together with the stamp of the Department of Justice corresponding to the number of documents and the date of certification.
You are looking for notarized translation services in Hanoi, let HACO do it for you. Haco proudly provides the express prestigious notarized translation service in Hanoi for documents, specialized materials, multilingual profiles in such languages as English- Russia – France – Japan – Thailand – Laos – China – Korea with fast speed, cheapest price in the market.
HACO located in Hanoi is the leading company in the field of notarized translation, with nearly 20 years of establishment and development, the company has connections with more than 20 offices across the country .:
Express translation service of household registration book, school records, driving license, birth certificate, transcript, marriage registration, divorce application into English, Chinese, Japanese, Korean, Russian, German, Laotian, etc.
Household registration book is one of the indispensable legal basis for each family. Household registration books will follow us throughout the life so the household registration book is very important. Anyone who wants to study abroad, travel and do business with all countries in the world, must notarize the translation of their household registration book into the local language and vice versa. Translation of household registration book into English, Chinese, Japanese, Korean, Russian, German, Laotian …. help us facilitate travel, labor export and business cooperation with foreign partners.
NOTARIZED TRANSLATION INCLUDED
Package 1: Fixed-format text Package 2: Normal text Package 3: Professional text
1.Definition: Means texts in judicial form issued in Vietnam, with fixed, repetitive content, little new content, with format that is not too fussy, complex Means civil transaction texts (not in fixed format) that are easy to find in daily life, without complicated specialty or intensive academic knowledge. Means those texts which are highly specialized, complex presentation, high academic, using high-tech software, complex format … requires translators to research and put a lot of effort and time for the translation
2.Classification – Birth certificate
– Registration of marriage
– ID card, Land Use Rights Certificate
– Household book, passport
– Judicial record No. 1, 2
– Certificate of bachelor or baccalaureate
– High school transcript 2-3
– Driving License
– Documents include: Certificate of marital status, decision, certification, confirmation, autobiography resume … ..
– Transcript….
– Certificate of origin, quality …
– Economic contracts, principles, simple and common transactions, financial statements
– …………………… – Specialty: Type 1 (Intensive)
– Medicine, Pharmacy …
– Environment (Geology …)
– Sociology (Buddhism, tourism …)
– Vietnam standards
– Chemicals, cosmetics …
Specialty: Type 2 (Normal)
– Construction
– IT
– Literary
– Machinery (Manual, principle …)
– Finance and banking
3. Service quotes
After reviewing customer documents, information will be transmitted to the Sales Department to be able to make a quote to customer.
There are three types of quotes:
a. Quotes over the company counter
b. Quotes by email
c. Quotes by phone
If the customer agrees with the price quoted by our company, the document will be transferred to the Project Department and inform the return schedule to the customer.
4. Translation price breakdown
1. For the package of notarized translation documents (Degree, transcript, health certificate, IC …)
The calculation is as follows:
a. Translation fee: Total number of original pages * unit price (subject to language of translation) = Total translation fee
b. Notarization fee: The total of notarized sets * notarization unit price = Total notarization fee (<14 original pages / 1 notarized set).
c. Printing fee: Total pages (translation + original page + tip) * printing unit price = Total printing fee
2.For package 3 with the intensive specialty texts ….
(Ordinary translation, without notarization)
The calculation is as follows:
a. Translation fee:
Calculated according to the number of words (300 words / page) x unit price = Total translation fee
Calculated according to the number of original pages (in case words cannot be counted)
+ The number of words ≤ 300 words shall be counted as 1 A4 page
+ The number of words ≥ 300 words shall be counted as 1.5 or 2 A4 pages
b. Company seal: Free the first set of stamps
Our translation fee includes correction as to original format, proofreading, and product warranty for 3-6 months. Customers do not have to pay any other fees.
3. Method of payment:
a. For new customers with total fee less than or equal to 1 million: Please pay 100% of the translation fee in advance. After payment, the customer will receive a retail invoice with an appointment to return documents.
b. For regular customers: Customers will pay 100% after receiving the complete translation.
c. For new customers with total fee more than 1 million: Please pay 70% of the package value in advance, pay the remaining of 30% after customers receive full service as ordered.
4. Translation of documents
Upon completion of the quotation, the client's documents will be forwarded to the appropriate translator and with deadline for processing time. Translators can be direct staff of the company or collaborators. After receiving the translation, the project management staff of the company will conduct checks and proofread for the translations to match the content and format as well as word errors.
5. Return documents and receive feedback from customers
The completed document will be returned to the customer on the pre-appointed time. The sales staff of our company will seek customer feedback on the company's services. In case the customers do not work directly, they can provide feedbacks on the company's website. These feedbacks will be summarized and reported to the company's director.
6. Privacy policy and warranty
a. Privacy policy: Our Company always has a privacy policy for customer documents. Your documents are absolutely not disclosed to third parties.
b. Warranty: HACO's products are warranted within 6 months in any form (such as additional notarization, soft copy of the translation, or errors correction of the translation …)
Notarized translation documents have common characteristics: The legal document has the signature and seal of a state representative agency, the content is not long and has the prescribed stereotypes … But not because so, notarized translation is as simple and easy as many people think, notarized translation is highly legal, every word in the text must be standard and especially all the data in the document must be absolutely accurate.
Take an example: The insertion of wrong date of birth in the translation text would lead to the damage of tens of millions if accidentally it makes the customer miss the flight, resulting in a series of compensation costs.
Besides, HACO also meets customers' requests on time (24/7).
Because of the important nature of notarized translation documents, HACO has used a software specialized in notarized translation to standardize legal documents, with absolute accuracy.
Therefore, customers need to go abroad or come to Vietnam, when looking for notarized translation, please come to HACO to complete legal procedures of organizations or individuals. And you should fully trust the notarized translation services at HACO.
Come to HACO, customers will benefit the optimal language solution, with technical translations:
1. The content of the translation is 100% technically accurate;
2. On-Time service;
3. Absolute confidentiality of translation documents;
4. Professional service;
5. Lifetime warranty;
6. Best prices, flexible payments.
HACO COMMITS 100% REFUND
IF THE ABOVE STATEMENTS ARE NOT TRUE
Please contact us to have a perfect translation:
Address: No. 2/68 Nguy Như Kon Tum – Nhan Chinh – Thanh Xuan – Hanoi
Tel: (+84) 435543604 Hotline: (+84) 983820520 _ (+84) 982045522
Email: hanoi@dichthuathaco.vn _ vietnamese@dichthuathaco.vn