HACO provides BOOK translation services in English, Japanese, Korean, Chinese, Russian, German, Laotian, Thai, … 30 languages around the world. HACO specializes in two-way language translation: : English <–> Japanese; English <–> Chinese; English <–> Korean; English <–> Russian; English <–> Thai; English <–> Lao; English <–> Russian; English <–> German,….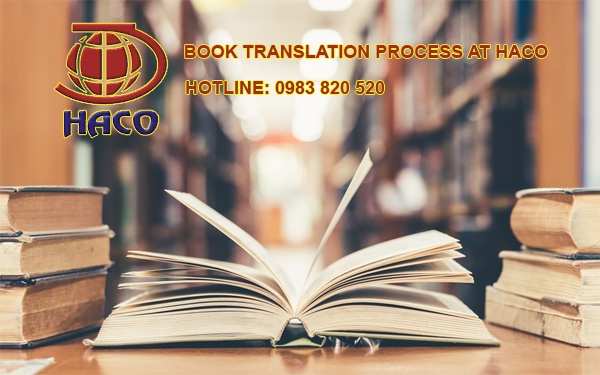 10 REASONS TO CHOOSE HACO
1. WE ALWAYS FOLLOW THE JAPANESE STANDARD TRANSLATION PROCESS QUALIFIED FOR ISO 9001-2008
2. HACO IS AN WELL-KNOWN TRANSLATION BRAND ON THE DOMESTIC AND INTERNATIONAL MARKET:
3. EXPERIENCE IN TRANSLATION FOR NEARLY 20 YEARS
4. HIGH-SPEED TRANSLATION, PROCESSING 100,000 WORDS / DAY – ON SCHEDULE WHENEVER CUSTOMERS NEED;
5. EXPERIENCED TEAM OF EXPERTS WITH PROFESSIONAL TRANSLATION TEAM – WITH LOCALIZATION FACTORS; Combined With TRANSLATION SOFTWARE SUCH AS TRADOS, TRANSLATION MEMORY … SAVING COSTS, ENSURING THE HIGHEST TRANSLATION QUALITY.
6. SERVICE PACKAGE, QUALITY PROFESSIONAL SERVICE, 24/7 DEDICATION.
7. COMPETITIVE PRICE – FLEXIBLE PAYMENT
8. 100% CONFIDENTIALITY
9. MODERN TECHNOLOGY
10. HACO – MULTILINGUAL TRANSLATION – GLOBALIZATION
Why is book translation needed?
Today's life is knowledge, but human knowledge is successfully created especially through life-long books. A meaningful, rich, humanistic book can change a person's life. That is a fact. These books have been translated into many different languages, which will be duplicated, helping millions of people to find the light of their lives.
Books help people perfect themselves, "to do business, learn to be a good person first", due to this meaning, in every field not only in business but also in the learning process, we must read books for thinking orientation and knowledge development. Books help us balance our lives. In this sense, book translation plays an important role in social life. Book translation creates a flat, interconnected world environment with faster speed, diversity and abundance. Book translation serves as a foundation for developing global culture.
Books are the most standard language of all translation languages for projects, bids, finance, banks, etc. If other languages require accuracy, standard terminology and specialized terminology, the language in books includes a combination in which the specialized terminology also requires a proficient style that is suitable for indigenous culture in addition to the accuracy. Books after being translated include the editor_ who is responsible for the translation content, then the chief editor _ who is responsible for the local style and culture. And finally, it is printed into a book in which the translator is an important factor determining the success or failure of the translated book, which is also the PRESTIGE AND QUALITY that HACO Translation brings to customers.
Books have various types:
– Technical manual of machines, etc.
– Travel guides, cook books, health service books, etc.
– Science books, fiction books, etc.
– Literature books, novels, etc.
– Books in specialized fields such as Medicine, Pharmacy, Finance, Banking, etc.
– And many other types of books, etc.
Each type of book requires translators at different levels of expertise but in general, it must ensure that the final quality of the book is in line with the idea that the book's author needs to convey to the reader in addition to the consistency of all translation requirements such as language, accuracy, etc. to the content of the original book.
SOME TYPICAL CUSTOMERS OF HACO TRANSLATION
Kim Dong Publishing House
Young Publishing House, Hochiminh City
Vietnam News Agency
Culture and Information Publishing House
National Publishing House
Science and Technology Publishing House
Social Sciences and Humanities Publishing House
BOOK TRANSLATION NEEDS A STANDARD PROCESS:
Strict translation process at HACO includes 8 steps:
–  Step 1: Analyze the project
Document is divided into sub-chapter, determined the specialty as well as the level of difficulty of each sub-chapter.
– Step 2: Select project personnel
This step is especially important. The choice of the right translator, particularly the project manager, expert will determine 80% of the success of a translation project.
– Step 3: Set up wordlist delivered to project translators
To ensure consistency of specialized words, repeated words and phrases.
– Step 4: Conduct translation
All translation specialists are connected smoothly via network connection, telephone, online, skype … during the translation process to create consistency in the translation content and to ensure optimal translation quality and complete translation schedule in the shortest time.
– Step 5: Proofreading
This is an indispensable step which aims to unify the term and quality of translation in the most perfect way.
It depends on the level of depth and accuracy of the Project Manager or the document editor.
– Step 6: Formatting
To create the professionalism, the translated documents must have the same format structure as the original documents.
– Step 7: Browse the project
In order to avoid negligence in the process of formatting documents, the Project Manager and the Experts will finally check both content and format before delivering to customers.
– Step 8: Document privacy
After handing the translated documents to the customer. The project manager is the person who keeps the document in the server which is protected by password and will be erased in 10 days (if requested by the customer).
Privacy Policy
HACO has a good security system, ensuring that customers' documents are not disclosed. Requirements that collaborators and employees need to comply with:
1. Do not contact directly / indirectly with organizations / individuals related to translated documents / projects.
2. Do not disclose any content in the translated document to anyone;
3. After completion, must transfer all documents (originals and translations) to the company;
4. Within 7 days after transferring documents to the Company, all data on the computer (or draft) must be deleted / destroyed if no amendment is required.
5. Translated documents delivered one week overdue by collaborator will be considered invalid.
6. All information of collaborators is kept confidential, not provided to partners or other services, especially mail advertising companies which would send junk mail.
7. HACO will not send advertisement to the list of partners after the translation contract ends.
8. In term of finance, HACO accountant ensures the contract settlement according to the provisions of the enterprise financial system.
Come to HACO, customers will benefit the optimal language solution, with technical translations:
1. The content of the translation is 100% technically accurate;
2. On-Time service;
3. Absolute confidentiality of translation documents;
4. Professional service;
5. Lifetime warranty;
6. Best prices, flexible payments.
HACO COMMITS 100% REFUND
IF THE ABOVE STATEMENTS ARE NOT TRUE
Please contact us to have a perfect translation:
Address: No. 2/68 Nguy Như Kon Tum – Nhan Chinh – Thanh Xuan – Hanoi
Tel: (+84) 435543604 Hotline: (+84) 983820520 _ (+84) 982045522
Email: hanoi@dichthuathaco.vn _ vietnamese@dichthuathaco.vn