BID TRANSLATION | BIDDING DOCUMENT TRANSLATION AND CERTIFICATION | BID DOSSIER TRANSLATION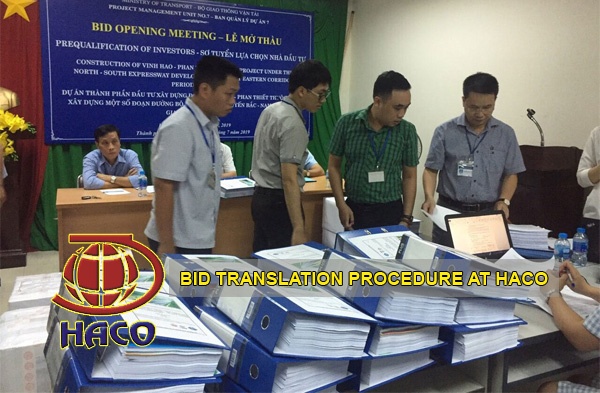 10 REASONS TO CHOOSE HACO
1. WE ALWAYS FOLLOW THE JAPANESE STANDARD TRANSLATION PROCESS QUALIFIED FOR ISO 9001-2008
2. HACO IS AN WELL-KNOWN TRANSLATION BRAND ON THE DOMESTIC AND INTERNATIONAL MARKET:
3. EXPERIENCE IN TRANSLATION FOR NEARLY 20 YEARS
4. HIGH-SPEED TRANSLATION, PROCESSING 100,000 WORDS / DAY – ON SCHEDULE WHENEVER CUSTOMERS NEED;
5. EXPERIENCED TEAM OF EXPERTS WITH PROFESSIONAL TRANSLATION TEAM – WITH LOCALIZATION FACTORS; Combined With TRANSLATION SOFTWARE SUCH AS TRADOS, TRANSLATION MEMORY … SAVING COSTS, ENSURING THE HIGHEST TRANSLATION QUALITY.
6. SERVICE PACKAGE, QUALITY PROFESSIONAL SERVICE, 24/7 DEDICATION.
7. COMPETITIVE PRICE – FLEXIBLE PAYMENT
8. 100% CONFIDENTIALITY
9. MODERN TECHNOLOGY
10. HACO – MULTILINGUAL TRANSLATION – GLOBALIZATION
HACO provides BID translation services in English, Japanese, Korean, Chinese, Russian, German, Laotian, Thai, … 30 languages around the world. HACO specializes in two-way language translation: : English <–> Japanese; English <–> Chinese; English <–> Korean; English <–> Russian; English <–> Thai; English <–> Lao; English <–> Russian; English <–> German,….
Important role of bid translation
More of all, we understand that in every business activity, for some specific businesses, the translation of bids is extremely important because it has its own language style due to the inherent complexity of the foreign language as well as Vietnamese. Moreover, for the bids, there are also more complex specialized terms that if you translate inaccurately, it will lead to errors in the bids. This poses a risk that the contractor will fail in the tender.
Due to this, it is extremely important for businesses to find a professional bid translation company. With rich experiences as well as an international standard translation process, the staff of HACO Translation will definitely bring you high-quality translations to help the contractor win in the tender.
Bid translation decides the success or failure of bidding packages for businesses
Do you think a winning unit merely depends on their potential? It is certainly impossible without the successful translation of the bids. The initial factor for a business to enter into the successful goal of a bidding package is the content of the bidding documents.
However, another factor that will make an important contribution to whether you win in the tender or not is whether the bids have been completely and accurately. Do the words in the draft match with the translation and are they understandable? Due to the difference in linguistic style, it is necessary for the translation to clearly know this in order to have the most appropriate plans for the bid translation.
4. FIELDS OF BID TRANSLATION THAT HACO HAS BEEN TRANSLATING
– Translation of bids for projects on Thermal Power, Hydropower, upgrading rural electricity grids by phase, expansion projects of WB, ADB, etc.
– Translation of bids for projects on upgrading and improving and upgrading key national roads, provincial roads and bridges and railways.
– Translation of bids for rural concretization projects and asphalt concrete projects; single-span and multi-span bridges with complex structures, difficult construction measures, etc.
– Translation of bids for projects on waterway transport, upgrading infrastructure of irrigation systems of Mekong River Delta and Red River Delta.
– Translation of bids for environmental protection and sustainable development projects financed by international banks; Sustainable development of water resources; industrial and domestic water waste and waste treatment.
– Translation of bids for construction projects, translation of bids for BOT projects on roads, bridges, by-passes and bids for villas and entertainment areas.
For construction bids alone, the translation will include: the translation of detailed descriptions and techniques and drawings, detailed construction plans, project presentations, accounting estimates, annual financial statements, thereby, proving that it is capable of bidding with advantages over competitors.
For the translation of bids involving the provision of equipment and machinery for construction and industry, the translation will include: the translation of detailed descriptions and use guides of products provided by the company, certified translation of CO, CQ, CE quality certification (if any), handbooks, catalogs, certificates of manufacturers, etc.
5. TYPICAL BID TRANSLATION PROJECTS CONTINOUSLY UPDATED ON HACO WEBSITE BY HACO
Strict translation process at HACO includes 8 steps:
Step 1: Analyze the project
Document is divided into sub-chapter, determined the specialty as well as the level of difficulty of each sub-chapter.
Step 2: Select project personnel
This step is especially important. The choice of the right translator, particularly the project manager, expert will determine 80% of the success of a translation project.
Step 3: Set up wordlist delivered to project translators
To ensure consistency of specialized words, repeated words and phrases.
Step 4: Conduct translation
All translation specialists are connected smoothly via network connection, telephone, online, skype … during the translation process to create consistency in the translation content and to ensure optimal translation quality and complete translation schedule in the shortest time.
Step 5: Proofreading
This is an indispensable step which aims to unify the term and quality of translation in the most perfect way.
It depends on the level of depth and accuracy of the Project Manager or the document editor.
Step 6: Formatting
To create the professionalism, the translated documents must have the same format structure as the original documents.
Step 7: Browse the project
In order to avoid negligence in the process of formatting documents, the Project Manager and the Experts will finally check both content and format before delivering to customers.
Step 8: Document privacy
After handing the translated documents to the customer. The project manager is the person who keeps the document in the server which is protected by password and will be erased in 10 days (if requested by the customer).
Privacy Policy
HACO has a good security system, ensuring that customers' documents are not disclosed. Requirements that collaborators and employees need to comply with:
1. Do not contact directly / indirectly with organizations / individuals related to translated documents / projects.
2. Do not disclose any content in the translated document to anyone;
3. After completion, must transfer all documents (originals and translations) to the company;
4. Within 7 days after transferring documents to the Company, all data on the computer (or draft) must be deleted / destroyed if no amendment is required.
5. Translated documents delivered one week overdue by collaborator will be considered invalid.
6. All information of collaborators is kept confidential, not provided to partners or other services, especially mail advertising companies which would send junk mail.
7. HACO will not send advertisement to the list of partners after the translation contract ends.
8. In term of finance, HACO accountant ensures the contract settlement according to the provisions of the enterprise financial system.
Come to HACO, customers will benefit the optimal language solution, with technical translations:
1. The content of the translation is 100% technically accurate;
2. On-Time service;
3. Absolute confidentiality of translation documents;
4. Professional service;
5. Lifetime warranty;
6. Best prices, flexible payments.
HACO COMMITS 100% REFUND
IF THE ABOVE STATEMENTS ARE NOT TRUE
Please contact us to have a perfect translation:
Address: No. 2/68 Nguy Như Kon Tum – Nhan Chinh – Thanh Xuan – Hanoi
Tel: (+84) 435543604 Hotline: (+84) 983820520 _ (+84) 982045522
Email: hanoi@dichthuathaco.vn _ vietnamese@dichthuathaco.vn