HACO provides HEALTH, MEDICAL, MEDICINE AND PHARMACEUTICAL DOCUMENTS translation services in English, Japanese, Korean, Chinese, Russian, German, Laotian, Thai, … 30 languages around the world. HACO specializes in two-way language translation: : English <–> Japanese; English <–> Chinese; English <–> Korean; English <–> Russian; English <–> Thai; English <–> Lao; English <–> Russian; English <–> German,….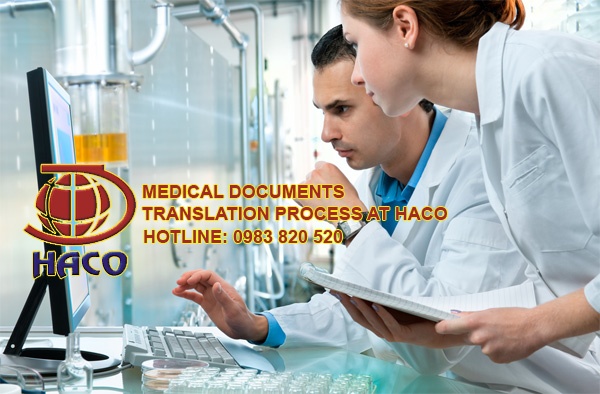 10 REASONS TO CHOOSE HACO
1. WE ALWAYS FOLLOW THE JAPANESE STANDARD TRANSLATION PROCESS QUALIFIED FOR ISO 9001-2008
2. HACO IS AN WELL-KNOWN TRANSLATION BRAND ON THE DOMESTIC AND INTERNATIONAL MARKET:
3. EXPERIENCE IN TRANSLATION FOR NEARLY 20 YEARS
4. HIGH-SPEED TRANSLATION, PROCESSING 100,000 WORDS / DAY – ON SCHEDULE WHENEVER CUSTOMERS NEED;
5. EXPERIENCED TEAM OF EXPERTS WITH PROFESSIONAL TRANSLATION TEAM – WITH LOCALIZATION FACTORS; Combined With TRANSLATION SOFTWARE SUCH AS TRADOS, TRANSLATION MEMORY … SAVING COSTS, ENSURING THE HIGHEST TRANSLATION QUALITY.
6. SERVICE PACKAGE, QUALITY PROFESSIONAL SERVICE, 24/7 DEDICATION.
7. COMPETITIVE PRICE – FLEXIBLE PAYMENT
8. 100% CONFIDENTIALITY
9. MODERN TECHNOLOGY
10. HACO – MULTILINGUAL TRANSLATION – GLOBALIZATION
Translation of specialized documents in the fields of medicine, pathology, anatomy, translation of prescriptions, translation of instructions for use of drugs, medical equipment, proprietary medicines and pathologies in leading medicine in Vietnam.
1. ROLE OF MEDICAL TRANSLATION IN DAILY LIFE
Translation of medical science, medical, pharmaceutical and medicine is a difficult subject, translators must not only be good at languages, know specialized words but more importantly grasp and understand the nature of the problem you are conveying in expertise in medical science, medicine, health, etc. in depth. Translation of medical text documents requires not only specialized expertise but also dedication with the motto "Doctors as a model" because the errors in the medical translation work always have direct impacts on the health of patients, just a small error in the sentence leads to unpredictable consequences that can cause side effects for patients, affecting the economy and time of both doctors and patient.
2. TEAM OF TRANSLATOR OF MEDICAL AND MEDICINE DOCUMENTS
Translators of medical, health and pharmaceutical (medical) at HACO TRANSLATION are professors, doctors and pharmacists who have worked for a long time in the field of health care, or working at a pharmaceutical research institute at home and abroad and many collaborators who are leading retired health professionals with many years of experience; discharge documents, prescriptions, instructions for use of drugs, instructions for use of machines and equipment and more, pharmaceutical manufacturing and processing processes are handled correctly by experts while the responsibility for a normal translator can be said to be too difficult.
3. OUR TRANSLATION PARTNERS ARE HOSPITALS, HEALTH DEPARTMENTS AND PHARMACEUTICAL COMPANIES
Ha Noi Medical University Hospital
Thanh Hoa Pharmaceutical Joint Stock Company
Traphaco Ha Nam Joint Stock Company
Tu Du Hospital Ho Chi Minh
National Otorhinolaryngology Hospital
Hai Duong Pharmaceutical and Medical Equipment Joint Stock Company (Hdpharma)
Hanoi General Hospital, Viet Duc Hospital, Dong Da Hospital
Hai Duong Pharmaceutical Joint Stock Company
Takeda Saigon Pharmaceutical Company
Abbott Representative Office in Hanoi
4. TRANSLATION OF MEDICAL AND HEALTH DOCUMENTS (MAINLY IN ENGLISH):
– Translation of articles for Medicine Magazines
– Translation of informed consent forms
– Translation of packaging and labels on medicines and medical products
– Translation of pharmacovigilance reports
– Translation of CRF (case report forms)
– Translation of report of specialist/physician
– Translation of toxicology report
– Translation of CRF (case report forms)
– Translation of clinical trials
– Translation of CRA Training & Video Materials
– Translation of product features (SPC)
– Translation of instructions for use of drug
– Translation of medical equipment user guide
– Dịch thuật Hướng dẫn sử dụng cho các phần mềm y tế
Translation of user guide for medical software
– Translation of instructions for use by doctors
– Translation of patient information
– Translation of drug testing
– Translation of medical legal documents
– Translation of legal documents
– Translation of user interface (UI) for medical devices
– Translation of medical software, website for hospitals, clinics and pharmaceutical companies
– Translation of pathology
– Translation of documents on infectious diseases
– Translation of orthopedic documents
– Translation of dermatological materials
– Translation of genetic materials
– Translation of toxicological and anesthesia materials
– Translation of hematological documents
– Translation of geriatric documents
– Translation of immunology documents
– Translation of ophthalmic documents
– Translation of pediatric documents
– Translation of urology documents
– Translation of endocrinology materials
– Translation of surgical documents
– Translation of pulmonary materials
– Translation of endoscopic materials
– Translation of endocrine material documents
– Translation of dentomaxillofacial documents
– Translation of diagnostic materials
– Translation of drug use instructions
– Translation of description of drug manufacturing process
– Translation of pharmaceutical researches, reports and training materials in the pharmaceutical industry
– Translation of research and clinical trials
– Translation of product labels
– Translation of medicine labels and medicine packages
– Translation of clinical protocols
– Translation of drug registration files
– Translation of technical documents & manuals
– Translation of instructions for use of drugs
– Translation of medical research documents
– Translation of SOP documents in the medical industry
– Translation of medical catastrophic documents (adverse events)
– Translation of public medical information materials
– Translation of medical intellectual property documents
– Translation of medical journal
– Translation of patient information leaflets
– Translation of patient information sheets
– Translation of medical equipment
– Translation of clinical research agreements and contracts
– Translation of gynecological documents
– Translation of obstetric documents
– Translation of neurophysiology documents
– Translation of otorhinolaryngology documents
– Translation of psychiatry materials
– Translation of nephrology literature
– Translation of neurological materials
– Translation of rheumatic documents
– Translation of cardiovascular documents
– Translation of cancer documents
– Translation of coltology documents
– Translation of bacteriological documents
– Translation of nuclear medicine documents
– Translation of medical emergency materials
Strict translation process at HACO includes 8 steps:
Step 1: Analyze the project
Document is divided into sub-chapter, determined the specialty as well as the level of difficulty of each sub-chapter.
Step 2: Select project personnel
This step is especially important. The choice of the right translator, particularly the project manager, expert will determine 80% of the success of a translation project.
Step 3: Set up wordlist delivered to project translators
To ensure consistency of specialized words, repeated words and phrases.
Step 4: Conduct translation
All translation specialists are connected smoothly via network connection, telephone, online, skype … during the translation process to create consistency in the translation content and to ensure optimal translation quality and complete translation schedule in the shortest time.
Step 5: Proofreading
This is an indispensable step which aims to unify the term and quality of translation in the most perfect way.
It depends on the level of depth and accuracy of the Project Manager or the document editor.
Step 6: Formatting
To create the professionalism, the translated documents must have the same format structure as the original documents.
Step 7: Browse the project
In order to avoid negligence in the process of formatting documents, the Project Manager and the Experts will finally check both content and format before delivering to customers.
Step 8: Document privacy
After handing the translated documents to the customer. The project manager is the person who keeps the document in the server which is protected by password and will be erased in 10 days (if requested by the customer).
Privacy Policy
HACO has a good security system, ensuring that customers' documents are not disclosed. Requirements that collaborators and employees need to comply with:
1. Do not contact directly / indirectly with organizations / individuals related to translated documents / projects.
2. Do not disclose any content in the translated document to anyone;
3. After completion, must transfer all documents (originals and translations) to the company;
4. Within 7 days after transferring documents to the Company, all data on the computer (or draft) must be deleted / destroyed if no amendment is required.
5. Translated documents delivered one week overdue by collaborator will be considered invalid.
6. All information of collaborators is kept confidential, not provided to partners or other services, especially mail advertising companies which would send junk mail.
7. HACO will not send advertisement to the list of partners after the translation contract ends.
8. In term of finance, HACO accountant ensures the contract settlement according to the provisions of the enterprise financial system.
Come to HACO, customers will benefit the optimal language solution, with technical translations:
1. The content of the translation is 100% technically accurate;
2. On-Time service;
3. Absolute confidentiality of translation documents;
4. Professional service;
5. Lifetime warranty;
6. Best prices, flexible payments.
HACO COMMITS 100% REFUND
IF THE ABOVE STATEMENTS ARE NOT TRUE
Please contact us to have a perfect translation:
Address: No. 2/68 Nguy Như Kon Tum – Nhan Chinh – Thanh Xuan – Hanoi
Tel: (+84) 435543604 Hotline: (+84) 983820520 _ (+84) 982045522
Email: hanoi@dichthuathaco.vn _ vietnamese@dichthuathaco.vn