It is very difficult to translate books. For the accurate translation of books, in addition to qualifications and language skills, translators must have professionalism and experience. Book translation requires time and effort. Haco Translation Company has translated hundreds of books for domestic and international customers in the fields of training, business, investment, science, psychology, etc. Customers put all their faith in us because we offer them accurate translations, reasonable prices, professional services and enthusiasm.
Books play an important role in the economic, political and social life. All nations have their book repositories – national assets. Knowledge in books is very valuable. Famous poems and immortal love stories are assets of mankind. Therefore, books are translated into various languages in the world.

As mentioned above, book translation is very difficult. The accurate translation of books requires many factors. In order to assure that a translated book is a bestseller; translators must be good at source and target languages. As for feature films, translators must be good at literature; as for documentary and scientific films, translators must be competent. In addition, like translation in other fields: culture, society, economics, politics, science, information technology, etc., book translation must be accurate and proper. It is different from the translation of other documents; book translators must have very good knowledge. It is necessary for contents and literary styles in books to be standard and proper. Book translation requires a serious attitude in phases from translation to publication. It is not permitted to be arbitrary in any phase: translation, correction, unification, compilation, etc. It is meticulous to publish a book on the basis of readers' needs. This work is scientific and intensive.
In the book translation process, there are also 08 steps. This process is used for the translation of any book.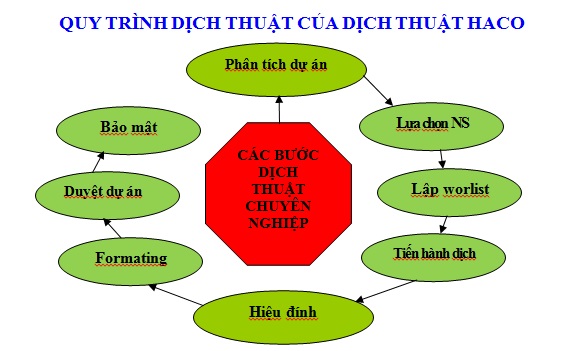 For many years, HACO Translation Company has implemented many book translation projects in various fields for publishing houses: Thanh Nien Publishing House, Publishing House for Science and Technology, Phu Nu Publishing House, Kim Dong Publishing House, and many other publishing houses in the whole country. Quality of books translated by us is always assured.
We are looking forward to cooperating with individuals, publishing houses, book/magazine release organizations, and other organizations.
Haco Translation Company would like to thank you for your belief and co-operation.
If you have needs for translation, please contact:
Tel: 04.35543604 _ 00844.35543604
Hotline: 0983820520 – 0982045522_ 0084.983820520 – 0084.982045522
Email: hanoi@dichthuathaco.vn