Online Vietnamese language courses for foreigners are not only for those people who are studying and working in Vietnam, but also attractive to many young enthusiasts.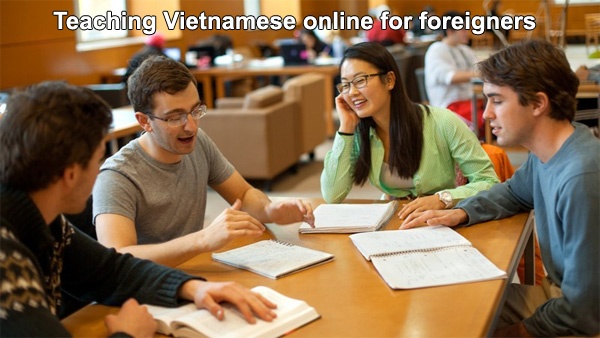 Foreign young people are excited to attend online Vietnamese language online courses for foreigners. With the purpose of coming to Vietnam to travel, study and live to experience. And the current trend of making Vlog through social networking platforms, YouTube … you can get a large number of fans. You can make money online to serve your travel life.
Online Vietnamese language courses for foreigners do not pay attention to attractive expressions
Not that you take online Vietnamese language training courses for foreigners, you can speak like a native. For young people who are active in the entertainment industry, review on social networks, if you talk in a dry way, you will not be able to have a natural and comfortable voice.
The foreign YouTuber made the famous video clips about food, tourism, hotel, experience in Vietnamese, besides the professional knowledge about the introduced product, they should often attend the online Vietnamese Language courses for foreigners to create a unique style, closeness, fun and inspiration for viewers.
Normally, online Vietnamese language courses for foreigners take from 3 to 12 months. Participants are also very limited. These courses are usually for those who wish to have a good level of Vietnamese language but do not promote your engaging communication.
Flexible online Vietnamese course design for foreigners
Our online Vietnamese language products for foreigners are designed specifically for many subjects. You can take courses with specific study programs. You can register to study at the center, at home or online, all are supported with 100% dedicated and caring spirit. cúp golf
Online Vietnamese Language courses for foreigners targeting at 4 skills of listening, speaking, reading and writing
You will have access to a wealth of knowledge including images, annotations, audio, conversations and many documents as well as a direct exchange of Vietnamese language with teachers. There are also practical experience programs that can help you listen, speak, read and write Vietnamese more naturally.
Online Vietnamese Language courses help foreigners listening, speaking, reading and writing Vietnamese more naturally
You can refer to our official website dichthuathaco.com.vn to choose the right courses for yourself. Our mission is to enable you to integrate quickly and completely with the Vietnamese community through this online Vietnamese language course.