PERFECT VIETNAMESE LEARNING PROGRAM
(MODULE: PERFECT VIETNAMESE)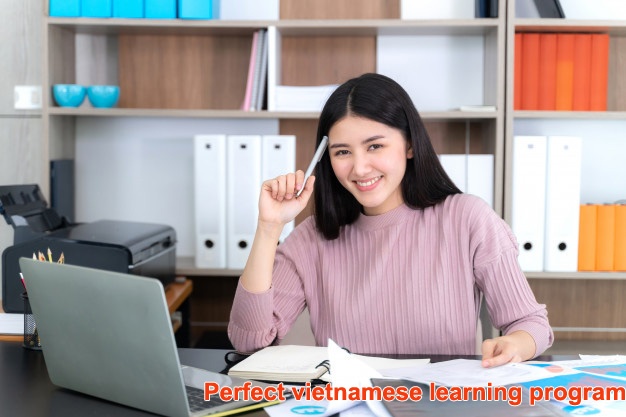 COURSE OBJECTIVES
Learners, based on basic Vietnamese and advanced Vietnamese, summarize all the issues of: Vocabulary, sentence structure, context and style, expressions to use Vietnamese in the best way.
Learners summarize and complete their vocabulary, grammar, grammar rules, and speech patterns in a comprehensive manner that reflect the characteristics of the Vietnamese language, ensuring the correctness and appropriateness with the " using habit""of native speakers.
Learners improve their ability to communicate well in life and work for academic, business, , tourism, and investment purposes.
Students are mastered and perfected in 4 skills: LISTENING, SPEAKING, READING, and WRITING – creating momentum to step into translation and interpretation programs to meet job requirements perfectly.
Learners perfect Vietnamese language to integrate into the Vietnamese community environment in a comprehensive and profound way when returning home.
COURSE SUBJECTS
Learners who have advanced Vietnamese language skills
Foreigners who have advanced Vietnamese skills and are sent to Vietnam to study Vietnamese for work. They learn to serve their long-term careers;
Foreigners who have advanced Vietnamese skills and come to Vietnam for business and investment;
Foreigners who have advanced Vietnamese skills and want to learn Vietnamese to be able to take university entrance exams in Vietnam.
Overseas Vietnamese who return to Vietnam to live, study, and work and have advanced Vietnamese skills.
Learners who have learned advanced Vietnamese at HACO Vietnamese Language Center.
TEACHING METHODS OF INSTRUCTORS
Perfecting 4 skills: LISTENING – SPEAKING – READING – WRITING
Listening:

Instructors dictate to learners.
Instructors let learners listen to recordings or watch videos and then ask them to rewrite.
Instructors ask and learners answer.

Speaking:

During lessons, learners talk to each other. Instructors talk with learners, and learners talk on topics.
Learners tell stories.
Learners learn to sing.
Learners can take videos of themselves and choose the one that they find the most perfect. In this way, learners are very active in training and learning. And they are also very confident

Reading:

Learners actively read newspapers, online newspapers,… They can read anywhere. Reading means understanding, from the content to the sentence structure and enriching vocabulary.
Learners learn to read and then recite, and read by themselves favorite passages or articles.

Writing:

Learners must take effort to write about any topic they are interested in;
Learners must write common letters, love letters, business letters, letters to superiors, letters to subordinates …
Learners must write essays on topics they like.
Learners must sum up the Vietnamese knowledge that they have learned, do comprehension exercises, practice, and do homework to be expanded, improved, and perfected to develop and enhance their skills of LISTENING, SPEAKING, READING, WRITING. The essential vocabulary and grammar system and a range of common topics help students grasp Vietnamese and communicate effectively and deeply. It is a stepping stone to a translation stage (including: Translation – Interpretation)
CLASSES
Depending on the time and needs of learners, HACO will arrange and organize classes:
From 5 to 10 learners
From 2 to 4 learners
One learner
INSTRUCTORS STANDARDS
Teaching Vietnamese at Hanoi University, National University, University of Social and Humanities
Speaking in Hanoi accent without lisp or local dialects
Experiencing in teaching Vietnamese language for 10 years or more
Having love of Vietnamese and being able to convey Vietnamese in the best and most diverse way. Creating class time to attract learners to love Vietnamese as well as Vietnamese culture and people. Since then, helping learners passionate about learning Vietnamese. Motivating learners to concentrate and learn Vietnamese well in the shortest time
Complying with the Center's curriculum and preparing lesson plans for every class for a thoughtful and effective lesson
TESTING AND ASSESSMENT
At this level, learners must always have input tests every time they enter a course to determine their Vietnamese language so that instructors have appropriate lesson plans to meet learners' learning aspirations. As a result, it can help save time to focus on the parts that learners need to grasp and improve.
After each month of learning, there are tests to assess learners' level and propose the next program of learning.
At the end of the course, there are tests determines the score and level for issuance of VIETNAMESE COMPLETE CERTIFICATE along with the transcript and the instructors' comments on learners during the learning process..
LEARNING DOCUMENTS
The curriculum of Nguyen Viet Huong – Language Development Institute
The materials are prepared by instructors based on the standard curriculum of Nguyen Viet Huong, along with the development of many angles and aspects of each lesson in order to have a rich lecture to help learners increasingly love Vietnamese. Thanks to that, they work hard and actively learn Vietnamese, and that is the motivation for learners to learn Vietnamese in the most effective and fastest way..
LEARNING TIME
Learning time: Vietnamese language classes are built to suit every learners as their learning is often dominated by work. Learning time may be:

3 to 6 months. However, the longer the learning time is, the more learners will acquire Vietnamese knowledge and their skills in LISTENING, SPEAKING, READING, and WRITING will be more complete to serve their work and learning better.
If learners have time and focus entirely on learning, they should learn for a full period of 6 months for the course

Number of hours: 288 hours; 2 hours/session; 3 hours/week
TUITION FEES AND SUPPORT POLICY
Tuition fees:

One-learner class : 9,5 USD/ h
Two-learner class: 8,5 USD/ h
Three-learner class: 7,5 USD/ h
Four or five-learner class: 6,5 USD/ h

Learners registering in a group of 3 to 5 are reduced 10% of tuition fees.
REGISTRATION
Learners can contact us directly at:
HACO VIETNAMESE CENTER – VIET NAM TRANSLATION, TRAINING, AND TOURISM JOINT STOCK COMPANY
Address: No.1, Alley 68 Nguy Nhu Kon Tum, Nhan Chinh, Thanh Xuan, Hanoi
Phone: (084)35543604
Fax: (084)35543915
Mobile: (084) 983820520
Email: vietnamese@dichthuathaco.vn